about us
We are a boutique candle manufacturing company based in Palm Beach on the Gold Coast.  All of our candles and melts are hand poured in small batches to ensure each and every 'Drift' product is of the highest quality.  We use a premium 100% natural soy wax which is sustainable, renewable and biodegradable.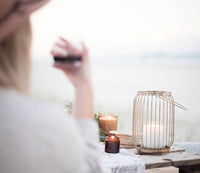 ambience
What makes us different from the rest is the passion behind our candles .  We love the ambience and atmosphere a beautiful, scented candle can create – the soft flickering light combined with an intoxicating scent – enhancing moments and creating memories.
Our fragrances blends have been carefully curated to suit & enhance a wide range of moods, moments and settings.  From the gorgeous tropical 'Coconut & Tahitian Lime' to our signature earthy blend of 'Leather & Sandalwood' - there's a candle for everyone. 
Our Fragrances
design
Our signature scented soy candles have been designed to complement a wide range of aesthetics.  Our branding is simple and understated allowing our scents to speak for themselves.
Shop our range
small batch, hand crafted
Every single Drift Trading Co. product is hand poured and handcrafted by us.  Our candles are hand poured in small batches to ensure each and every candle has a strong fragrance throw from the first burn right down to the last.  Our Reed Diffusers are individually blended by hand and our soy melts hand poured in small batches. From the very beginning our mission has been to create a high quality product that our customers fall in love with.
Shop Drift